Blood and Bone
Book 3 in the Jack Hawthorne Series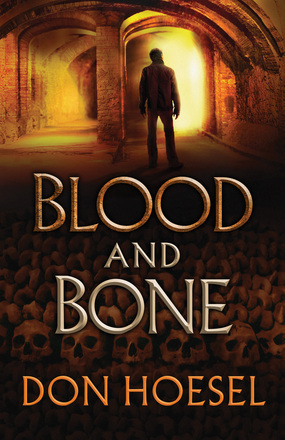 Order Blood and Bone at Barnes & Noble, Christianbook.com, on Amazon or at your local bookstore.
Praise for Blood and Bone...
"Hoesel has created a tale worthy of Indiana Jones and Robert Langdon, complete with secret codes, ancient artifacts, globetrotting action, and wily enemies. An exhilarating read for sure." -- Publishers Weekly
"Blood and Bone is a fast-paced, action-filled thriller that will keep you engaged from beginning to end." -- Fresh Fiction
"...there is no downplaying the impressive research it took to write a book abounding in archaeological, historical and Biblical facts dating thousands of years. Don Hoesel combines this research with international settings, military and government groups, secret societies, and action galore." -- FaithfulReader.com
Keeping the Secret of the Bones Could Leave Jack With Blood on His Hands
A decade after Serpent of Moses, Jack is married to Espy and back teaching at Evanston University. They have two sons, one of whom has cystic fibrosis. Despite this challenge, life is comfortable. But that all changes when the CIA, while combing through the papers of the late Gordon Reese, uncovers the secret of Elisha's bones. Jack's world is then turned upside down by an urgent call from his old friend Duckey, who's been alerted to the CIA's probing by one of his former contacts. Jack and his family escape from their home just ahead of the CIA, and he decides to do what he should have done long ago: recover the bones and destroy them. Except the bones aren't where he left them.
So now Jack is in a race, for the last time, to find the bones. And he's not the only one. Pitted against both the CIA and an organization that will kill to protect their secrets, Jack and Espy follow hard-to-decipher clues across the globe before arriving in the catacombs of Paris for a final showdown that will either save their family--or tear apart everything they hold dear forever.